Director Jason from Spunkworthy wasn't entirely sure who referred Dustin to him. Whether it was a fan of the site, or a past unnamed model who had already appeared on the site, Jason just wasn't sure. But whoever referred Dustin to him must have a good taste in men, because Dustin looks like he might be Clark Kent's hot military son!
Dustin is a former Marine, now 23 years old, and he says he has always wanted to try his luck in porn. He says that his girlfriend wasn't to enthusiastic about this endeavor, at least not in the beginning. However, gradually she accepted it and even warmed up to the idea, especially when Dustin explained to her all the details. She went from being negative to being curious about it.
So they finally settled on the solution that she should come there to watch him, to ensure that everything goes well. It was definitely a good sign, and Jason was especially fond of her preference for hairy men, because she explicitly said that she preferred Dustin with his body hair fully grown in.
Like so many other straight guys, Dustin was nervous in the beginning, especially about taking off his clothes in front of the camera the first time. His biggest concern was that his cock wouldn't be able to get hard in front of a bunch of new unknown people. However, this concern proved to be unfounded in reality because as soon as he unzipped his jeans, his cock was already fully prepared or any new adventure!
In order to ensure that he would be able to perform well and leave a good impression, Dustin saved up his load for about 1 whole week, and that included a session with his girlfriend when he abstained just before cumming.
And as usual, this prolonged abstention from ejaculation worked really well – although it wasn't a high flying cumshot, the sheer volume size of it was impressive! He just kept cumming and cumming, and eventually his entire belly was covered in thick jizz!
Now let's take a look at some of Justin's basic stats: he is 23 years old, his height is 5′ 10" (178 cm), his weight is 175 lbs (79 kg), his eyes are brown, he wears shoe size 11,5 (45,5 Euro size), and his cock is 7 inches (18 cm) long. He identifies himself as totally straight.
Preview video: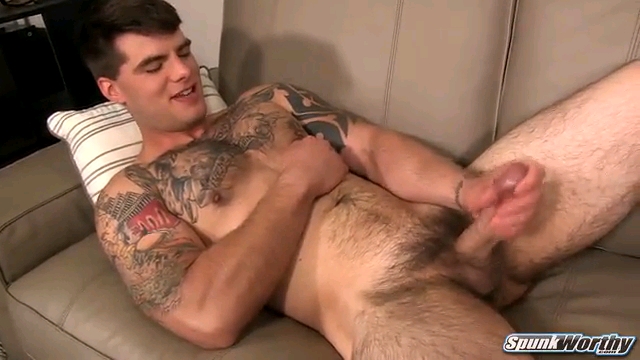 Click here to watch and download his entire video in HD quality at SpunkWorthy!
SpunkWorthy is a great porn site that features younger straight amateur dudes. Lots of truly straight military guys doing gay for pay only once or a few times! This site is usually the first and only place where you'll see these bad boys, so don't miss out!