Handsome, masculine and hung blue-collar worker Hal is back for another shoot in the Hawaiian nature (check out his previous appearance here). Hal is 35 years old, his height is 5'9" (175 cm) and he weighs 172 lbs (78 kg). He was born in Colorado and raised in San Diego. He sports an athletic sexy muscular body, somewhat hairy chest and legs, strong pecs, 8-pack abs and a sizable 7,5-inch (19 cm) cock! His cock stands upright and is slightly curved upward towards his navel. Hal's butt is muscular as well and he's also proud of his powerful thick surfer thighs!
Hal admits that he's an exhibitionist because it makes him happy when he has an opportunity to flex and show off his powerful biceps and strong back muscles. For this occasion, Hal decided it was time to broaden his horizons a little, and wanted to experiment with some dildos. His ass looked definitely inviting and I can bet he enjoyed fucking himself with those dildos – just check out his face expressions!
Wearing a Santa Hat, our Dirty Naughty Santa inserts a pink "Devil's Tail" dildo into his manhole and wanks his cock at the same time, while giving us his trademark "bad boy" smile. There's also quite a bit of garden chores that Hal does in this video, such as mowing the lawn. Of course, this horny motherfucker was hard all the time while he was doing these chores. There's also a pissing scene, which will definitely appeal to all the piss lovers.
Hal's jerkoff session is definitely smoking hot! Check out that amazing big stiff cock which he expertly handles with his manly hands. And the cumshot was also pretty intense. We hope to see Hal soon again!
Preview video: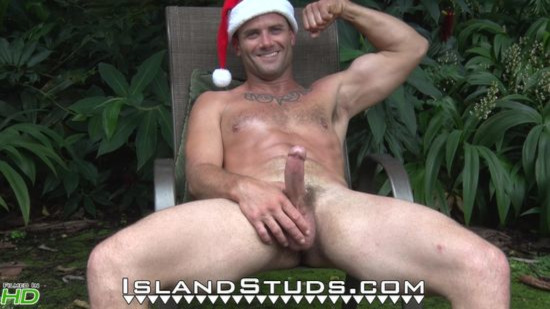 Click here to watch their entire movie in HD quality at Island Studs!